"
Lush green valleys and rugged mountains, sheer cliffs and wild, frothing, slate-grey seas. Bagpipes, baroque cathedrals and the smell of grilled seafood. The architectural grace of Santiago de Compostela and the industrial churn of Vigo. Galicia, the north-west corner of Spain, is a diverse region, but amid the variety there are two constants: first, it's one of the best places to eat seafood in the world; and, second, its wild landscape, seemingly more Scottish than Spanish, is the most beautiful on the Iberian peninsula.
Galicia is also large, about three-quarters the size of the Netherlands, and so for this guide we'll travel along its coast, picking out some of the best beaches, coastal towns and seafood restaurants from Ribadeo and Ortigueira in the north via A Coruña and the Costa da Morte and then south to the area known as the Rías Baixas. Although Galicia is good to visit all year round, the best time to go is from June to September. However, even during the hottest months of the year, be prepared for rain, which can be heavy and, at times, persistent.
RIBADEO TO ORTIGUEIRA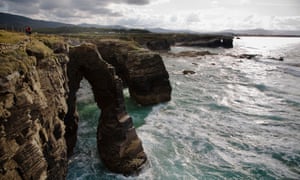 Praia das Catedrais, Ribadeo
In Galician, Praia das Catedrais means "beach of the cathedrals" and, as you walk along this beach and through the arches and craggy domes sculpted into the rocks by wind and sea, it is easy to see why. When the tide is low, and the weather holds, it's possible to spend hours exploring the sea caves. In summer (1 July to 30 September) and Easter week, numbers are controlled and it's vital to book a visit to the beach (free) at ascatedrais.xunta.gal.
O Barqueiro and Estaca de Bares
O Barqueiro, a small, tranquil fishing village of multicoloured houses, is the perfect place to pass the afternoon staring out at the bay while sipping a nice glass of albariño, Galicia's most famous grape varietal. From here it's only a 15-minute drive north to Estaca de Bares, the most northerly point of the Iberian peninsula. Its 19th-century lighthouse is a quiet place from which to appreciate the uninterrupted views of the Bay of Biscay and the relentless ferocity of the Atlantic.
Viveiro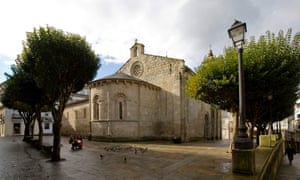 Set amid rolling hills covered with pines and eucalyptus trees, Viveiro is on the estuary of the river Landro. It is a picturesque place, with walls that have withstood pirate attacks and plagues, and springs that have attracted countless Santiago pilgrims. Wander through its idyllic squares, its grand entrance gates and over its medieval bridges. Covas beach is also only a short walk from the town centre.
Praia de Xilloi, O Vicedo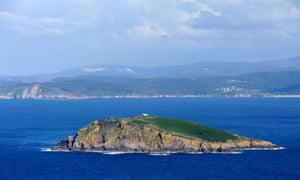 Replete with dunes, imposing cliffs, and fine white sand, this kilometre-long beach is one of the best in Lugo province. The turquoise waters, although brisk, are not too dissimilar to the Caribbean. The beach has parking, showers and restaurants nearby and is a good place for families.
Where to eat and drink
A Lonxa, Burela
This traditional cafe-bar-restaurant is the haunt of local fishermen. It may have a school-canteen vibe but the food is simple and delicious. The product is the protagonist here, not the chef. Try the steamed clams (€12) to start, followed by the fried bonito (€10). The swordfish is also excellent.
• Rúa do Berbés, + 34 982 581 157, on Facebook
Porto de Rinlo, Rinlo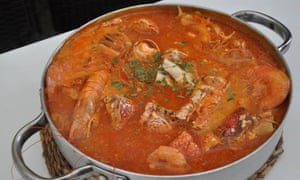 In the fishing town of Rinlo, close to Praia das Catedrais, is this rather dull looking hotel-restaurant. But people flock here from all over the province for arroz caldoso con bogavante (€35), a soupy rice with lobster (like a cross between risotto and bouillabaisse), which goes very well with chilled albariño. Be sure to reserve a table.
• Praza Santa Catarina 9,+ 34 982 123 137, portoderinlo.com
A Cabana do Fos, Ortigueira
Near the beach of Mourozos, this popular local eatery offers an excellent selection of seafood and meat dishes. Try the fried razor clams, pulpo a la gallega (disks of boiled octopus, with spicy paprika and potatoes, pictured), a juicy entrecote with chips, or, if you just want a drink, a caña (small beer) on the terrace.
• Mains from €16, Playa Mourouzos, on Facebook
Where to stay
El Castaño Dormilón
Just 5km outside of the lovely town of Ortigueira and 10km from the beach of Mourozos, this former schoolhouse has been converted into a simple but comfortable hotel in the verdant countryside.
• Doubles from €89 B&B, elcastanodormilon.es
A Miranda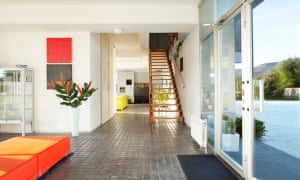 Between the mountains and the sea on the Ortigueira estuary, this new hotel is a perfect microcosm of Galicia, with sleek design, light airy rooms and spectacular views of the northern coast. It even has its own boat, which you can rent to explore the imposing cliffs that surround it.
• Doubles from €80 B&B, hotelamiranda.com
A CORUÑA AND THE COSTA DA MORTE
Torre de Hércules, A Coruña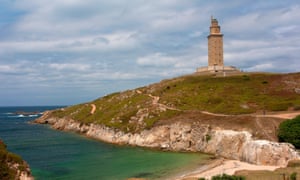 A Coruña may not be one of Spain's most beautiful cities but it does have a great gastronomic scene and some interesting sights. At the end of a bracing 2km walk along its sprawling promenade is its most impressive attraction: the 55-metre Torre de Hércules is the only ancient Roman lighthouse of its kind still functioning. It was built in the second century AD (possibly modelled on the Lighthouse of Alexandria), renovated in the late 18th century and made a Unesco world heritage site in 2009.
• Open daily, €3, concessions €1.50, torredeherculesacoruna.com
Praia de Carnota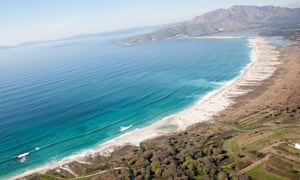 Some 7km long, this beach is considered the longest in Galicia. Far from any urban area, with rolling dunes, white sand and framed by the majestic Mount Pindo, it is a spectacular place to pass a few hours. Be warned, however, the tidal currents are strong and, with no lifeguards present, it's not ideal for children. The beach is accessible by car, but lacks amenities like showers and changing rooms.
Praia de Laxe, Costa da Morte
Sheltered from the Atlantic by the estuary of the river Anllóns, this beach has calm, clean waters and white sand, and is almost 2km long. And being in the centre of the town of Laxe, it offers more services than most of Galicia's more rural beaches. There's parking, lifeguards, showers and disabled access to the beach. There is also a host of bars and restaurants along the promenade, including Marisquería Zurich, one of the best seafood restaurants in the area.
Cabo Finisterre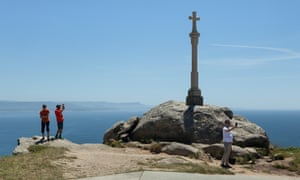 For centuries, this rugged outcrop was considered the most westerly point in Europe (though Cabo da Roca in Portugal is actually 10 miles further west) and, until medieval times, the End of the World. The last stop before the beginning of the Mare Tenebrosum, the cape is submerged in legend – tumble down the rocks, visit the lighthouse, and it feels like standing on the precipice of the world.
Where to eat and drink
O Bebedeiro, A Coruña
Open for almost 70 years, this rustic tavern is famous for its Galician cooking. Try the oven-baked zamburiñas (baby scallops), followed by the octopus and an excellent fried raxo (pork loin, a classic Galician dish). The atmosphere is welcoming and the food unpretentious.
• Mains from €17, Ángel Rebollo 34, +34 981 210 609, adegaobebedeiro.com
A Taberna de Cunqueiro, A Coruña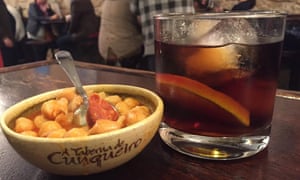 Receiving free tapas when you order a beer is not uncommon in A Coruña. In the Taberna de Cunqueiro, however, such a practice is taken for granted and punters get anything from a small square of tortilla to a bowl of soup. In any case, this bar-restaurant is a great place to drink and eat good Galician fare without breaking the bank.
• Main courses from €13, Rúa Estrella 22, +34 981 212 629, atabernadecunqueiro.com
As Garzas, Barizo
This Michelin-starred restaurant in the secluded seaside town of Barizo is the place for a blowout. The cuisine of Fernando Agrasar takes advantage of the region's excellent products and enhances their flavour with scrupulous technique. His tasting menu is short, interesting and unpretentious – and served in a dining room with sea views over the Costa da Morte.
• Tasting menu €74, + 34 981 721 765, asgarzas.com. There are reasonably priced rooms here, too, from €90 B&B
Where to Stay
Hotel Lois, A Coruña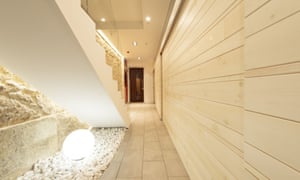 This hotel, in the centre of town, is minimalist while remaining comfortable. Its low prices and friendly service make it a good option for staying in the city for a few days. It also has its own restaurant.
• Doubles from €45 B&B, loisestrella.com
RÍAS BAIXAS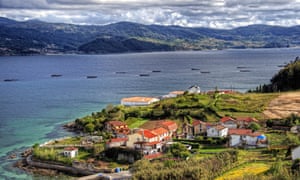 Isla de Ons
When asked about beaches in the Rías Baixas area, almost everyone recommends the Praia das Rodas on the Cíes Islands. With its Colgate-white sand and crystalline waters, it is consistently named among the best beaches in Europe. However, for something a little less tourist-trodden but equally as beautiful, catch a ferry to La Isla de Ons. Like Las Cíes, it is part of the Atlantic Islands of Galicia national park and offers a great selection of beaches, from pristine white sands to more rocky and rugged bays (it also has a nudist beach). There are three restaurants on the island (try the octopus at Casa Acuña), trails for walkers and a hostel, apartments sleeping between two and six people, and a campsite.
• Doubles from €65 B&B, apartments from €90, camping from €30 for two, bell tents from €70, isladeons.net
Rúa das Ostras, Vigo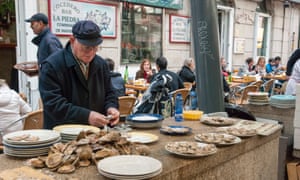 Oysters have been famous in the city of Vigo for hundreds of years. Farmed on the estuary in the nearby town of Arcade, they come in fresh every morning to the oyster shops of Rúa das Ostras (the street of the oysters). From 9am to 3pm, the many street stalls sell the shellfish for between €12 and €18 a dozen.
Cambados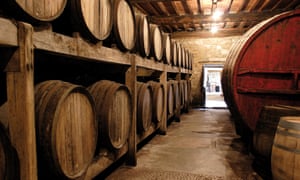 For wine lovers, a stop in Cambados is a must. Synonymous with the albariño grape, this small coastal town is packed with bodegas, 21 of which can be visited. The town itself is also worth exploring. The centre has 16th-century renaissance-style squares, baroque facades, ruined churches and old granite mansions. On the seafront, there is access to excellent beaches and a busy fish market.
• For a bodega visit, try Bodegas Albamar
Combarro
On the Pontevedra estuary, this village is perhaps one of the most beautiful on the Galician coast. After the rustic stone houses that line the seafront, the biggest attraction here is the hórreos, traditional granaries built in wood or stone and raised on pillars. There are 30 of these unique constructions dotted along the promenade and throughout the town.
Where to eat and drink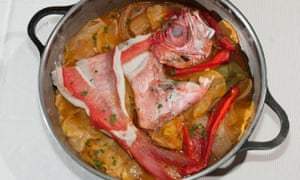 d'Berto, O Grove
This place is considered by many in the Rías Baixas as the temple of "big game seafood": expect king crabs, lobsters, groupers and turbot – all simply prepared but excellently cooked. It is popular, however, so be sure to book.
• Avenida Teniente Domínguez 84, +34 986 733 447, dberto.com
El Nautico, San Vicente do MarEnjoy a glass of crisp godello white wine (another local grape) or a paralysingly strong gin and tonic on the terrace of this lively bar. With views on to the small Barrosa beach and out across the majestic bay, this is a perfect place to relax during the day. At night, however, the tempo is upped, and El Nautico becomes a venue for live music.
• Praia da Barrosa, elnautico.org
Casa Durán, Moaña
According to local Michelin-star chef Pepe Solla, this is the best traditional restaurant in Galicia. It offers hearty stews, big bowls of mussels and mountains of razor clams. Although the service can be a bit hit and miss when the restaurant is busy, the food and reasonable prices are worth the waiters' indifference.
• Marrúa 25, +34 986 311 653, no website
Where to stay
Inffinit Vigo
This hotel is in Vigo's new town but is very close to the charming and lively historic centre. The hotel is sleek and stylish, with light, spacious rooms and comfortable beds.
• Doubles from €80 room only, inffinit.es
Parador de Pontevedra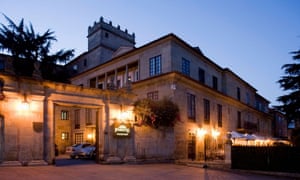 Like Vigo, the small city of Pontevedra, across the estuary, is a perfect place from which to explore the Rías Baixas. Full of renaissance and gothic architecture, all finished in Galicia's trademark gun-metal grey, the city has lots of idyllic squares and windy, narrow streets. The best place to stay here is the Parador, the former palace of the counts of Maceda. With a host of stately rooms, worn antique furniture and beautiful gardens, this charming hotel is a microcosm of the city itself.
• Doubles from €80 room only, parador.es
"
Author of Article
Matthew Bremner
Sat 19 Aug 2017 07.00 BST
Last modified on Sat 18 Aug 2018 07.38 BST