"
This exotic tropical island off the north-west coast of Malaysia is one of the world capitals of street food, with a dazzling array of cuisines from the island's Chinese, Malay and Indian communities. But after eating my way through everything from Hokkien black noodles, succulent giant prawns steamed in rice wine and spicy assam laksa, to roti canai dunked in a rich lamb curry, I discovered that Penang is a lot more than just a foodie paradise.
For most visitors, the big attraction today is the island's capital, George Town; transformed since it was awarded Unesco world heritage status into one of south-east Asia's hottest destinations, where a once-crumbling Chinatown now features heritage hotels, galleries, boutiques, bars and restaurants. But don't settle for that, hire a car or organise a day trip with a nature guide and discover the other side of this verdant island, with lush jungle and sandy beaches at Penang's national park, traditional fishing villages and rural Malay kampongs.
GEORGE TOWN
What to see and do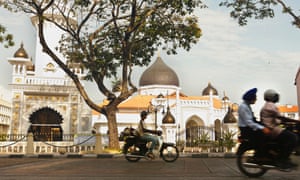 Exploring is best done in the morning and early evening, before the 35C heat and 95% humidity kicks in. Everything can be done on foot, though there are bikes for hire and trishaw peddlers do a good business ferrying tourists around. For a hit of Penang's multicultural society and three of its main religions, start off at the ornate swirling domes of the 1803 Kapitan Keling Mosque. Nearby is an Indian pavement shrine whose worshippers leave fragrant jasmine flowers and crack open coconuts, and also the Goddess of Mercy Temple, Penang's foremost Chinese temple, where Buddhists light giant incense sticks and burn ritual offerings of hand-crafted paper "hell" money.
Then plunge into the city's maze of narrow, bustling streets whose names evoke Penang's cosmopolitan history, such as Lebuh Light, named after the island's colonial founder, Francis Light, and lined with a grand Victorian town hall, the colonnaded Supreme Court and Fort Cornwallis, built by Light in 1786. There is an excellent walking tour around all the Unesco sights, but a more fun map, Marking George Town, follows a more recent heritage of striking 3D street murals created by the Lithuanian artist, Ernest Zacharevic, which attracts hordes of visitors, all intent on taking selfies alongside the murals.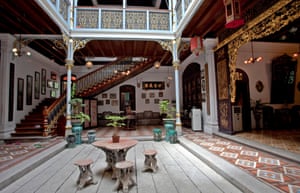 Two contrasting cultural venues not to be missed are the Peranakan Mansion and Hin Bus Depot. The mansion is an immaculately preserved, late 19th-century millionaire's residence, which gives a vivid snapshot of the lifestyle of locally born Chinese who assimilated Malay and European influences to create their Peranakan culture and exquisite Nyonya cuisine. The depot is an exciting metamorphosis of an abandoned bus terminal into a creative hub of multimedia exhibition spaces, artistic workshops, cinema screenings, concerts, cafes and a pop-up craft market on Sundays.
Where to eat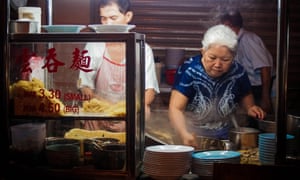 Street food is everywhere: with stalls cooking 24 hours a day, from dim sum for breakfast at the seething Chowrastra market to joining the after-midnight queue of clubbers and foodies for fragrant bak kut teh (pork innards soup) and stingray roasted in banana leaf at Old Green House (223 Jalan Burma, dishes from about £1.50). Kick off the evening trawling the legendary Kimberley Street hawker stalls, stopping off for delicious char koay teow stir-fried noodles, then move on to the 50-odd rickety foodcarts lining New Lane, selling everything from juicy satay to a delicate teochew oyster omelette (dishes from about £1). Seafood is a Penang speciality and at the beachside Ocean Green (48f Jalan Sultan Ahmad Shah, dishes from £5) choose from prawns baked in salt, chilli crabs, locally fished garupa and pomfret steamed in ginger and garlic.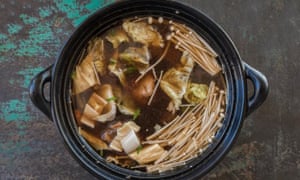 Shing Kheang Aun (2 Chulia Lane) is a wonderfully quaint restaurant serving outstanding Hainanese and Nyonya cuisine (dishes from £2), such as bitter gourd with salted egg or a rich assam fish curry. Vegetarians have a great selection all over town, from a dozen different south Indian curries served on banana leaves at Sri Ananda Bahwan to the self-service traditional Chinese vegetarian food of Hui Sin (11 Lebuh China, dishes from about 50p) or the more new age cuisine at Leaf Healthy House (dishes from £1).
Where to drink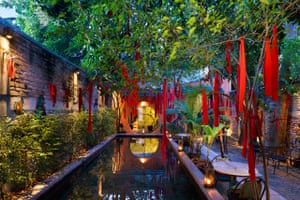 Penangites are mad about their barista coffee and, for the best flat whites, drop in at the eclectic Mugshot, which also hosts Rainforest Bakery and Spark, a funky optician, or join locals at the vast communal table in Gudang Cafe, a cavernous old "godown" warehouse. The Bayview (25a Lebuh Farquhar) is a towering, kitsch 70s hotel but its rooftop Three Sixty Skybar is the spot for sunset aperitifs, with a dazzling panorama over George Town. The bartenders at Mish Mash could easily work in a London speakeasy, recreating the classic negroni with herb-infused bitters. And at some point in the evening, everyone ends up at China House: chocolate-lovers will die for the cakes displayed in the Kopi C; wines from around the world are served in the romantic outdoor Courtyard Cafe; while live bands blast out blues, rock and reggae in the Canteen.
Where to shop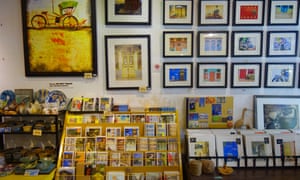 George Town is a goldmine of offbeat artisan boutiques. Jonathan Yun's atelier/showroom is filled with his exquisite, sculptural gold and silver jewellery and, round the corner, Bon Ton The Shop is an is an Aladdin's cave of silk sarongs, delicate Chinese porcelain and antique posters. Studio Howard showcases the work of two local artists: the emotive George Town photographs of Howard Tan, and striking fused-glass sculptures and bowls by Wong Keng Fuan. Sam's Batik House is a local institution, stocking every kind of batik shirt imaginable, while newly- opened Sixth Sense presents the latest designs of Malaysian stylists as well as contemporary fashion from Thailand and Korea.
Where to stay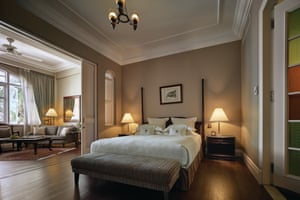 George Town's accommodation options range from luxurious hotels to flashpacker hostels – and with sterling strong in Malaysia, prices are affordable for UK travellers. The ultimate splash out is a palatial night in the Victorian-era Eastern and Oriental Hotel (doubles from £100 B&B), right on the waterfront. Many ancient Chinese villas and shop houses have been converted into boutique hotels, such as the Blue Mansion (doubles from £69), decorated with an elegant mix of antiques and art deco furniture, and Muntri Mews (doubles from £55 B&B), originally built to house wooden carriages and horses, which now offers nine rooms overlooking a tropical garden plus a cool cocktail bar and restaurant. The newest budget address is the minimalist Container Hotel (single pod from £10), with self-contained dorm pods in sustainably renewed freight containers, stacked inside an old shipping warehouse. For a taste of the past, stay at the Paramount Hotel (doubles from £11, +60 4 227 3649, no website), at the edge of town: huge rooms in a grand beachside Chinese mansion that hasn't changed in a century.
PENANG ISLAND
What to see and do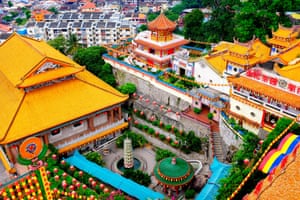 Driving out of George Town, head first towards the centre of Penang island to bustling Ayer Itam. The friendly town is free of tourists and its colourful market is worth a stop-off, though the tour buses at the nearby Kek Lok Si Temple, marked by a towering 30-metre statue of the goddess Kuan Yin, aren't far away. The Buddhist temple is always packed, and nearby Penang Hill is actually more Zen, with a nature trail to follow through the rainforest after getting out of the funicular train that ferries visitors up and down. The funicular will reopen at the end of the month following recent flooding.
After getting back on the coast road, hit the beaches and resorts of Batu Ferringhi, followed by the must-see Tropical Spice Garden. Paths lead through landscaped jungle, past hundreds of species of exotic plants, flowers and spice terraces, through water gardens and bamboo groves. But this is just a taste of what awaits at Penang national park in Balik Pulau, the north-western tip of the island. From the park headquarters, either trek through this dense jungle and marine reserve, or take a boat that hugs the coast, stopping off at idyllic Monkey Beach for a swim before arriving at the turtle hatchery and strange meromictic lake at Kerachut Beach. Hiring a guide is advisable.
Around the rest of Balik Pulau, visit the Entopia Butterfly Farm, the Escape adventure park for kids, durian farms and the Ghee Hup Nutmeg Factory, a reminder of how important the spice trade once was to Penang.
Where to eat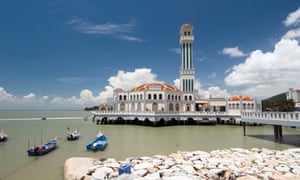 Heading out from George Town in the morning, turn into Medan Selera food court near the floating mosque at Tanjung Bungah, about 6km away. At breakfast time, Pak Lan's stall makes the best roti canai flatbread for about 40p, then from 11am, Lidiana Ekonomi Rice lays out a buffet of 20 spicy Malay curries, fried fish and vegetable dishes (about £1). To the south, around Ayer Itam's wet market either order a bowl of tasty assam laksa (90p) at the famous Air Itam Laksa stall, or a plate of tender roast pork and crackling at Ah Joo's hawker stand. Head for spicy Thai cuisine at Tree Monkey inside the Tropical Spice Garden or wait till you get to the fishing village of Pulau Betong at the tip of Balik Pulau for seafood straight from the boats at Kedai Kopi Hai Ching restaurant (dishes from £2). Fishermen and villagers hang out all day here, playing mah-jong, talking politics and eating plates of steaming lala clams with spring onion and ginger, fish poached in lemon grass, chilli and lime, or crabs cooked in belacan, a pungent fermented shrimp paste made in an artisan factory up the road. Not surprisingly, Anthony Bourdain "discovered" it for one of his TV shows.
Where to stay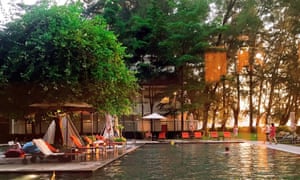 Outside George Town, a popular base, especially for family holidays, is the beach resort of Batu Ferringhi. With its sandy seafront, Rasa Sayang (doubles from £95 room-only) is one of the earliest Shangri-La resorts, while down the road, the quaint Lone Pine (doubles from £80 B&B) has been fashionably restored to its 1950s glory. Up in the rural Balik Pulau region, Bao Sheng Durian Farm (doubles from £33 room only) is the place to stay for visiting Penang's nature and adventure parks. It has tatami rooms and pool villas, and an unlimited supply of durians, so guests discover the wonders of the world's strangest, but most addictive, fruit.
• For more information, see Penang Global Tourism. Malaysia Airlines flies from Heathrow to Penang via Kuala Lumpur from £500 return
This article contains affiliate links, which means we may earn a small commission if a reader clicks through and makes a purchase. All our journalism is independent and is in no way influenced by any advertiser or commercial initiative. By clicking on an affiliate link, you accept that third-party cookies will be set. More information.
"
Author of Article
John Brunton
Sat 16 Dec 2017 11.00 GMT